Coco Land Lanka (pvt) Ltd, has taken an initiative in exporting cocopeat based products desirable for growing with less usage of water. we provide the best for the customers and it's a proven factor with the decade long backup of the immense cliental that we maintain. The company has assured the best for the clients throughout the decade that passed.

Coco Land lanka based in one of the best locations for the row materials, the company expands its vistas each day with better production. Being located in the 'coconut triangle' is beneficial to the company and its cliental.

The company is located about 20 km from Colombo Port and 2Km away from the Katunayake International Airport. '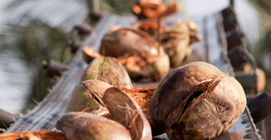 What we offer
Why Cocopeat?
The products of the company are fully up to international standards and guidelines with the utmost desire of meeting the challenges of the highly competitive market whilst providing the best to our long lasting cliental. The produce is an outcome of the usage of modern machinery and state of the art technology, as the effort is worthwhile.
As a company, fully grounded in the attempts of taking the products to greater heights we have undertaken the export of various cocopeat based products including:-,
Standard untreated coco/coir based growing mediums.
Buffered (treated) coco based growing mediums.
The ideal location of our company enables the easy access to the raw material used in its production. Coco peat, coco chips, coco crush and coco fiber which are extracted from the coconut husk, the outer fiber shell of the coconut fruit are the raw materials used in its production and easily found from in and around.
Cocopeat is known to be the best alternative used in agriculture and related fields as it has been identified as the most inert growing medium and it comes in handy with its much constructive benefits. The commonly most 05 impressive attractions of cocopeat are:-
Cocopeat has a high water absorption capacity. The high water retention level means that the nutrient needed for growing plants can be easily suspended as ions within the material. Therefore, it is conducive to growing good quality plants.
Since cocopeat can hold large quantities of water, it requires less maintenance and is easier to use than other growing medium for plants. It also helps in conserving water.
The production of this growing medium for plants and its usage is totally environment friendly. It does not harm the ecological balance and neither leaves any harmful waste nor residue from usage. It is easily sustainable and a single batch of cocopeat can be reused for rich plant growth for up to 5 years. Being organic, it posses no harmful disposal problems either.
Cocopeat is anti-fungal in nature, which means it naturally wards off several plant diseases caused by fungal growth.
Using cocopeat as a growing medium for plants reduces the need for chemical fertilizers and pesticides leading to a healthier crop.
It Is environmentally safe
No soil is needed.
It Comes from a renewable resource.
Stable and high yields.
Needs 50% less watering.
It is easier to harvest.
No pesticide damage.
Contains beneficial microbes - essential for healthy plant growth.
Perfect for all gardening needs (potting mix, garden mix, soil conditioner & lawn underlay).
It is possible to control the nutrition levels in their entirety - thus, lower nutrition costs.
No nutrition pollution is released into the environment because of the controlled system.